Welcome to Ludopolis.
Ludopolis is a brick-and-mortar store and online store with board games from Slovakia. From 2020, also independent publisher.
Our goal.
During the years we have created a great offer of games in enlish language and we decided that it would be a shame not to share this offer with more people than our small Slovakia. Terefore we have created our EU page and from March 2023 we are offering board games and other itmes to the whole European Union.
We will constantly update and enlarge our offer of board games for you, so it is worth following the news on our website. Follow us on social networks or subscribe to the newsletter.
Be sure not to overlook Games on sale, where you can find games at special prices.
We order games from several distributors and have access to many games, but it is not possible for us to have them all in stock, so if there is one that you are looking for, but you did not find it on our site, please contact us and we will try to order it.
If you have questions or comments, write to us on Facebook or email. We would like to know what you think about our offer, or your ideas for games that deserve to be in our offer.

Who we are:
We founded Ludopolis in 2014 as a hobby project with the dream that it could become a company where we will work one day. Our goal was to bring to Slovakia games that are not represented here and at the same time offer the best from the domestic market.
In the meantime, we opened our own brick-and-mortar store in 2019 and in 2021 a clubhouse where you can come and play games.

Since 2020, we have also been engaged in publishing, when we released the first localized game - Ikonikus. Another milestone was the release of the games Pickit Dragons and Lingolandia, which are our first purely Slovak author projects.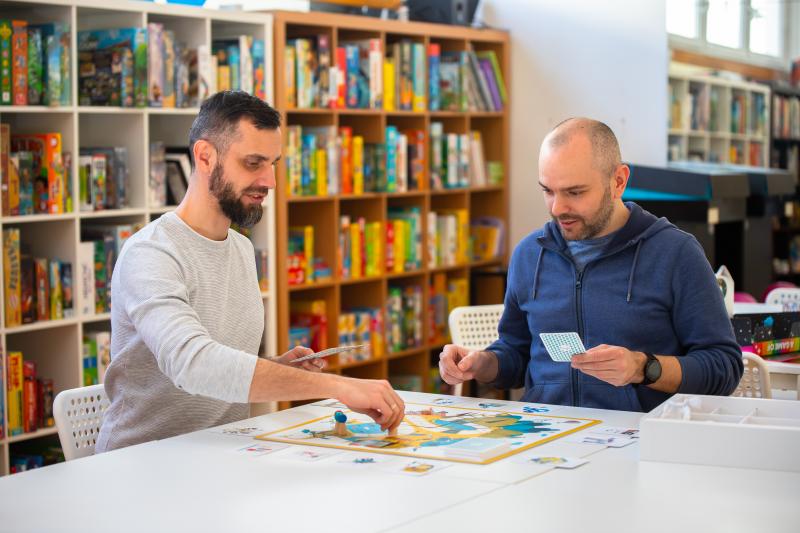 Founders Martin (Bobo) Bobek and Peter (Bresto) Brestovanský play Lingolandia.
We wish you a lot of fun with the best board games!